Numbers. Numbers. Numbers. Math. Math. Math.
Working from home, we look at numbers a lot. In the case of the COVID-19 lockdowns, we are probably looking more than we should. They get depressing in a hurry.
So here are some numbers that show a positve side of things – those coming from my friends (that's you!) in the Citrix Professionals community.
(this article was updated on May 8th, 2020)
The Citrix Heroes Folding@Home Team
If you haven't heard yet – Folding@Home is having a huge quarter. It's because they are doing research to determine effective treatments for COVID-19 that researchers are hoping will lead to a vaccine or at least drugs to help heal more rapidly (if you've ever heard of Herd Immunity you know how important this is in the long run to have more people getting it and recovering safely).
Folding@Home installs on your computer and uses spare cycles of your CPU and GPU (the latter being a powerhouse) to contribute blocks of compute for the research. I have managed to give my Threadripper 2950 and AMD Radeon VII quite the workout this week, along with my old i7 3770k with a GTX TITAN. But I'm still completely outclassed in our little group.
Here's the breakdown (last updated 5/8/2020):
We're ranked 5620 of 250,736 (up from 12,929) – so we are now in the top 97% of all teams!
Homewerk is leading us all in credits, putting some nVidia GRID cards to use!
CTXPro_com (DJ's systems) climbed ahead with the addition of a RADEON VII card and a new tip: if you register for an account passcode, you get waaay more credits! But, the Vega II is an amazing card – when WU's are available, it's capable of 1.2 Million Points Per Day!
I'm really proud of you for stepping up and I'd love to see more of you join in! This research has never happened this fast – but it's a great use of background cycles you aren't using. Just don't install this into the datacenter or your work computers without asking permission, please. Our Rank - Top Percentile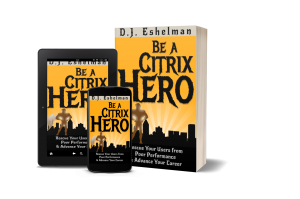 Who's Buying The Citrix Hero Book?
I have been watching these numbers fluctuate between countries. However, as of May 8th, 2020 here's how the top 3 break down:
Top Countries buying "Be A Citrix Hero" on Amazon
United States (down from 65%)
United Kingdom (up from 19%)
In addition to this is how many of you are taking advantage of the Kindle Owners Lending Library or Kindle Unlimited to read the book (that is an option if you want to read it quickly and don't want to actually own a copy!)
4448 Pages have been read so far in the lending library. (up from 2390 last month)
2070
in the U.S.A.
(up from 1166)
966
in the U.K.
(up from 592)
649
in Germany
(a new entry)
498
in India
(taking Canada's spot at #4)
Borrow the Book or Buy the Book
If you borrowed the book – show me what you've got! The more you read, the more Amazon helps get the word out about the book! If you got a copy with this method – I'd love to see 5000 pages by the end of the month! Get to reading!
Now you may be saying to yourself, "DJ, why would you be excited about people reading it for free?" – and honestly, I'm really excited that there are ways for you to get your hands on this material and boost your knowledge (and career). But if you sign up for Kindle Unlimited or Prime when you use the link at https://ctxpro.com/book – the site gets a bonus outside of book royalties (which average about 40%) when you do sign up. So it's a nice way to support the site without you having to spend any extra!
The Citrix Hero Fund
In the next week or so, look for a video message from me about this.
In January I had this idea – I talked about it with a few of my friends you probably know (Dane, Steve, Carl, etc). The concept is that we would as a community help get people unable to get into programs or to conferences that help you grow professionally- people that don't have corporate backing to do these things, for example.
Then – just before COVID-19 started dominating the news, a massive Tornado ripped thru an already somewhat impoverished part of Nashville – literally blocks from the capital.
My heart was broken – talk about a hard year!
So I decided to set up a small fund that I'm donating 30% of all of my royalties and earnings surrounding the Citrix Hero project.
We don't have exact numbers yet – but I can tell you that our first check should be arriving soon that we'll be donating to relief efforts here in Nashville. The intention is to do this until August.
After that – the fund will shift to a scholarship fund, hopefully by that point joined by some other projects I'm excited to tell you about.
If you're interested in donating to the fund, I will be getting you details soon but I'm really excited to get this going and I'll try to update you every month!
My goal – to raise $5000 for these efforts! Are you with me?
YouTube Subscribers
Three years ago, many of you suggested a YouTube channel. So we did – with a twist. We talk more about being a PERSON in IT, not an IT person.
But we need your help. YouTube doesn't take us seriously until we have 1000 subscribers. Help us get there!
Want even more numbers?
Stay tuned. I've got some results from a survey we have been conducting over the past 2 years that I think you'll enjoy reading. I've been so focused on writing that I haven't been able to finish the article but I hope to soon!
Which reminds me to remind you: We still want your opinion on where your career in End User Computing is heading! We are investigating the option of a Virtual Summit sometime this summer but we need confirmation that people are interested first!
You can take the survey here: https://bit.ly/2JAKM1z